Virtual SMS Numbers (Non premium SMS) - 11 Digit Code

In some instances like in the cases of business and corporate users having a virtual, dedicated SMS number is required. These virtual numbers are used to collect information from their partners, employees, or customers. The applications of virtual numbers are endless; a few of which are listed below :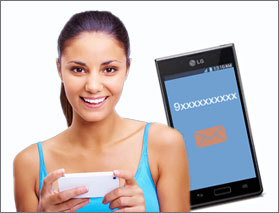 Non premium SMS campaigns: Virtual numbers can be set up in about 1-3 days at a cost much cheaper than having a dedicated premium SMS number.


Pooling: Publish your dedicated number and collect opinion from your customers.


Marketing: Market through giveaways and contests, and in return get consent from your customers to send them SMS advertising.


Medical Trials (clinical trials): You can have members of the medical panel to SMS their results to your dedicated SMS number. For the ultimate efficiency, the collected information goes into your database.
We designate a virtual SMS number for you. Once it is designated, all the messages that your number receives will be forwarded to your inbox.
For commercials on virtual number please email us your requirement to
info@bulksms.com.pk